Today I am going to display for you, in review, that success is possible, for anyone who truly believes in their abilities and are committed to never give up no matter what, and willing to put in the necessary work, that needs to be done to secede. Brandon Bryant who after landing a job in investment banking, post-College, it didn't take very long for this 29 year old co-founder of Harlem Capital Partners, to observe that he and his colleagues had little in common. As being a person of color, you sat next to the kid who plays lacrosse, whose father and mother is a somebody, and you acquire a front row seat and ears wide open to understand how they move in the world.
Brandon recalls of the old boys club, that seemed to dominate his majority-white working place. "My big takeaway from my experience is to be on the offense now, and be excited to make my own opportunities." Brendan accomplish that by launching a venture capital firm committed to investing in businesses owned by people of color and women who received as little as 3% of VC funding.
Bryant left his Wall Street job however, started sharing small-scale investment ideas with some friends, that including his future Harlem Capital co-founders, who began hustling together all the funds that they could possible attain. "Jarrid [Tingle] goes, I have some really cool opportunities. Do you have $10,000 to invest in it? Henri [Pierre Jacques] text me, saying, do you have $10,000? We had $50,000 in 30 minutes. Then one day in 2015, over dinner in a cramp Harlan apartment, Bryant, Tingle, Pierre-Jacquees and John Henry, who completed the Harlan capital quartet realizing that they were essentially running a small firm. Brandon says, the staff of four were already flying, but they needed a real mission.
As Bryant and his co-founders searched for entrepreneurs to invest in, what they found was, the buzz was most often surrounding the same type of faces. It occurred to them just how little venture capital actually goes to people of color and women, and set a goal of investing in 1,000 diverse founders. While this new Mo for Harlan Capital Partners was no doubt inspiring to its founders, it wasn't especially motivating for the investors, who they approached. As Bryant s estimate, they had heard the word no, literally hundreds of times.
And of course, occasionally a yes was highlighted. One of the largest private equity firms globally now had a minority stake in Harlem Capital and invested in its first pooled fund, which seeks to raise $25 million. Harlan has invested in startups like animal care service, Wagmo, that was founded by a woman; menstrual supply company Aunt flows, that was also founded by a woman; and gig economy marketplace Jobble, founded by a black man. And Bryant is committed to continue, seeking out more people who believes in what he is doing. He says, returning to metaphor of flying. "It's absolutely okay if you don't want to be along for this ride however, we are going to Mars. And then we're going to Venus and then we are hitting Pluto. So, see you there!"
The next gentleman that I am putting in the spotlight, is a man after my own heart, his name is Blake Tomnitz. Very deep in the Sunset Park neighborhood of Brooklyn, Blake Tomnitz overlooks the 15,000 square foot Brewery that ne spent the past half-decade building and perfecting. It is a far cry from his first attempt to brew in college, he says, "on our dorm room kitchen stoves," recalls the now 30 year-old co-founder and CEO of Five Boroughs Brewing Company. Today, his craft beers flow through bars taps and stock fridges across, well, letting us just put it this way, all five New York boroughs, this young man put his Blood Sweat and Tears into his dream.
Post-college, Tomnitz just kept brewing but took a job as an investment banking analyst. Still, in some corner of his brain, was preparing for a business in beer, his dream. One day, he and his future co-founder Kevin O'Donnell, who was then his banking colleague, laid their eyes on an inspiring scene at a Bronx bar. "We have never seen such a diverse group gathering around beer. It didn't matter if you had been living here your entire life, or if you are just moved here, if it's your first or 1,000th craft beer," Blake said. They insanely knew what they wanted to create: a beer representing all five boroughs of one of the most diverse cities in the world, and a space to drink it, and let the good times roll.
O'Donnell and tomnitz were blocked Buy bureaucracy, whether it was about building codes or liquor laws, at every step of the way. Starting a business in a big city like New York is extremely hard, starting a manufacturing business is big time extremely hard, and started an alcohol manufacturing business is almost impossible. And yet in 2017, Five Boroughs open to the public, hip hip hooray.
In August 2017, Five Boroughs launched the brand with a traditional IPA, a crisp pilsner, a tart gose and hoppy lager. "We wanted to develop a wide variety to show as many different palates across New York as possible," says Tomnitz. Anticipating bureaucratic hold-ups, they waited until the very last minute to announce their opening. However, 500 people showed up, and it wasn't just family and friends; there was significant interest not only from Brooklyn but New York City and far beyond." A room packed with all kinds of people from all five boroughs, hanging out and sipping his creation, my God his vision was realized, what a beautiful thing indeed.
Our next star, is Jon Yao, before he open Kato, the trendy Taiwanese restaurant celebrated by food by critic and LA hipsters alike, Jon Yao almost quit the kitchen. Having run out of money while interning for several chests, he had to move back in with his parents and agree to lend a hand with their setup: a lunchbox service for University students in Los Angeles. Within three years, Yao helped them launch the business, quickly transforming it into a chic restaurant and earned the greatest accolade in modern kitchen cooking: a Michelin star. The way our hero tells it, he failed very far upward, in amazing way.
Yao's parents had spotted what they believed to be a need in Los Angeles: grab-and-go meals for University students. "They believe it would be easy," Yao says, however, from packaging overflow to a too-small facility, the concept really wasn't working. What was working was Yao newfound hobby: hosting friends for elaborate dinners at his own house. The meals totally impressed his parents' business partners. "They were like, if it's so hard to organize lunchboxes, why don't you do what you were doing with your friends?" They quickly pivoted to serving those finer meals. Now Kato serves a daily changing 10 course tasting menus for $118. The inexpensive facility that they rented became the restaurant's sleek 27 seat dining room, and Yao's roll change from son helping out, to the head chef of the hour, oh yeah.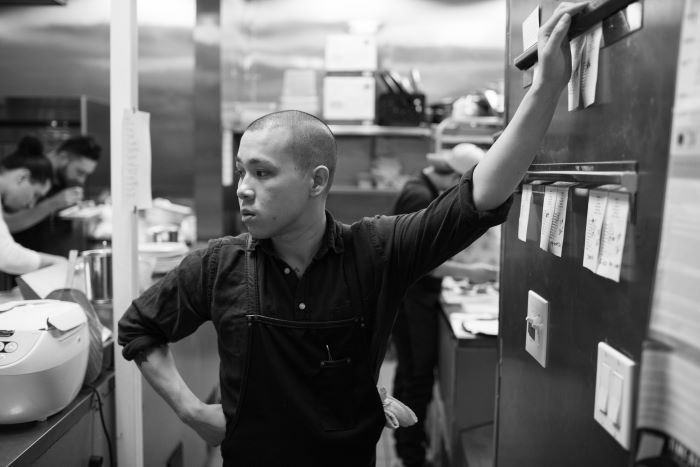 Yao opened the restaurant doors with almost no working capital at all. However, the greatest challenge was his search for identity. Once the idea behind Kato had evolved, Yao took the bull by the horns, having done so unofficially already. But, the restaurant's direction wasn't fully baked, and it didn't feel personal to our star at all. In the hopes bringing in money, he served pan Asian dishes "that I thought resonated with what Angelenos liked to eat, " he explains. "There wasn't a voice behind the food. It wasn't driven by my own identity." It was that sense of recognition that pushed him to pivot, Hallelujah.
At first, Yao couldn't help but to see Kato as an evolution of someone else's vision, a stopgap before he opened a place that was truly his own. But that freed him to take risks. "I'll treat this like an incubator, " he thought, and decided to curate a true Taiwanese menu influence by the flavors of his childhood. "I might as well do food that I really believe in." In June, our chef received his first star. "My ultimate goal was to be in the Michelin system, " he says. "When I was younger I didn't have a Taiwanese fine dining restaurant. Now, a lot of Taiwanese chefs say, you guys are the guiding star." and a round of applause Yao, definitely deserve.
The one thing, that all four of our shiny stars had in common, was the belief in their selves and in what they wanted to accomplish. With a heart that refused to give up even when the odds were against them, and family and friends may not have believed in their dreams. They push forward through the darkness, through the storms, knowing deep down in their heart there was a rainbow with a pot of gold waiting for them, if they complete their journey. Now my dear friends, it is your time, to succeed in your dreams and goals, let nothing convince you to give up.
May prosperity and good health be always with you.
Humbly yours Paul Earl.
www.beautiflworid.com