(Please leave a comment) 
My dear friends, has your eyes been open to what's going on with Bitcoin?, it has soared to another record high, $67,000. It was up more than 400% from one year ago, my God, that is huge however, after the SEC approve Bitcoin ETF it's certainly not surprising. Crypto has finally gone mainstream, wall Street is pouring in and yet many of the analyst's that are respected are saying Bitcoin is nowhere near a top. Annie Snyder says we are still at the beginning of this wealth Revolution, and to be perfectly honest with you, my team and I feel the same way. If you recalled from a couple articles ago, our predictions is, Bitcoin will hit a hundred thousand sometime in December 2021, and at the very latest, in January 2022, we shall see.
Now listen to this, Walmart stores all across the USA can now be used to buy Bitcoin however, the fees for this service are outrageously High, but, it is a milestone when it comes to adoption, hockey ma's all aboard. And here more shocking developments, one of the major players, Facebook's Novi Wallet is now being trialed in the U.S. and Guatemala through a partnership with coinbase. You can bet your bottom dollar American politicians are furious, they didn't see this coming.
Mr. James Edwards has made another prediction, and this is a man that knows his digital currencies. He believes that Bitcoin will Peak at 80,000 this year before cooling slightly down to $71,415 by the end of December. Mr. Edwards also forecasts, that Bitcoin will hit $249,578 in 2025 and a big-time jaw dropper $5,237,082 by the end of 2030. There's one thing for sure, that all the analyst agree on, and that is Bitcoin is nowhere near the top. If you haven't become apart of this new wealth phenomenon, you should definitely be jumping in now people, so that you won't have big-time regrets when all this becomes a realization.
A 24-year old who recently sold his crypto hedge fund for a big-time $35 million, has now predicted that E.T.H market cap will overtake Bitcoin in 2022. Raul Rai says he wouldn't be all surprised if the flippening happened within the current bull cycle. Overall, the young millionaire thinks E.T.H potential market cap is much higher than Bitcoin, (people E.T.H has been very, very good to me indeed).
Rai added that it is very hard to predict when the bull run will actually end however, at present he anticipates it will run until the middle of next year. My dear friends, he is not alone in this prediction, there are many top analysts that feels the same way and so does my team and I. And I believe with all of my heart and I'm putting my money where my mouth is, and that is you should definitely invest in E.T.H right away, while it is at a low price.
Bitcoin and Ethereum hit record highs on Tuesday 11-9- 2021, enthusiasm for cryptocurrency adoption worry about inflation driving momentum and flows into the asset class. However, both virtual currencies pulled back from their highs in the U.S. session, their trajectory was clearly headed. Bitcoin rose to $68,564.40,and was last down 0.1% at $67,325. While Ethereum hit $4,842.65 before trading down 0.7% at $4,774.
Bitcoin surged on Wednesday 11- 10- 2021 after US inflation jump to the highest level seen in over 31 years, hitting an all-time high. Bitcoin rallied from $66,000 to $68,000 in a space of about 40 minutes. This helped Bitcoin to suppress the record price of $68,520. 34. The data shows prices for the US consumer rose by 6.2% in October compared with the same period in 2020.
With the cost of gas, groceries, and housing, dramatically increasing, America is now dealing with it's highest inflation rate since 1990. To make matters even worse this figure was markedly worse than the 5.8% hike that some of the analysts had forecast. Bitcoin however, has been regarded by many as a hedge against inflation because of how it has a fixed Supply of 21 million coins unlike our American government printing money with nothing to back it but debt.
Our current levels of inflation are currently much more than what the Federal Reserve is actually comfortable with, and this could persist into next year. My friends, it remains to be seen if Bitcoin will hold on to the gains it has accrued since the dire inflation date was release. But, it is absolutely clear that bullish momentum is here to stay in the crypto space. Bitcoiners just might need a little patience to suppress a "sell wall" at $70,000. A very large amount of respectable analyst are convinced that Bitcoin still has the potential to hit six figures in the coming weeks, and I am one of them, I sincerely hope you are onboard.
COINBASE FALLING SHORT
Coinbase trading volume slump 30%, U.S. cryptocurrency exchange coinbase global inc, on Tuesday 11-9-2021, reporting a nearly 30% fall in the third quarter. Trading volume on a sequential basis hit by lower volatility and decline in prices for Bitcoin and some of the other cryptocurrencies. The trading volumes fail to $327 billion in the quarter from $462 billion in the second quarter. Bitcoin comprised 19% down from 24%, last quarter. The company's shares tumbled 13% in trading just after the bell.
Total revenue fell to $1.31billion from $2.23billion in the prior quarter, also missing estimates of $1.57billion. Crypto exchanges have benefited from the mainstream of digital assy, with businesses across the globe, investing heavily into growing their crypto infrastructure. "However, calls for more oversight on crypto trading and products triggered a punishing slide in B.T.C prices earlier this year. Net income attributable to common shareholders of $405.34 million or $1.57 per share, according to IBES data from Refinitiy.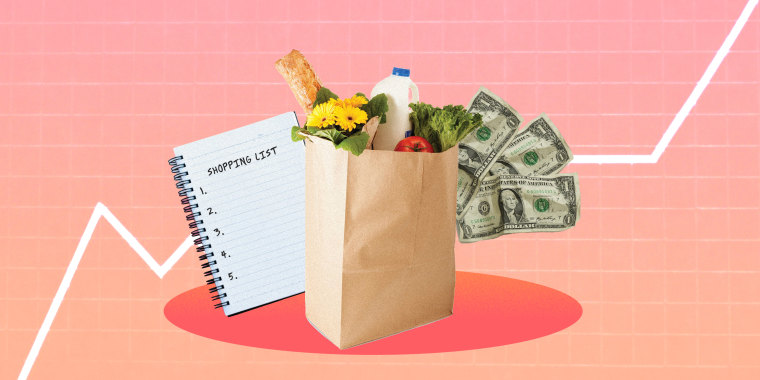 Last night I went to Star Market to do my usual grocery run, I don't like to stop at stores with philosophies. I go for elcheapo, places that don't have olive bars and don't play Schubert's on the intercom. I just want my stuff I need at lowest prices possible. However even I was stunned at the 35% increase in my usual food bill. I thought I was buying in a mini malist way. Then later I look a little more carefully at what was really happening.
I bought some beef and bacon, beef price increases are now at double-digit rates and bacon oh my God is even higher. We are paying much more per lb than 1 year ago, even Chicken and Port prices are way up. Turkeys are in short supply for Thanksgiving, it will be the most expensive Thanksgiving meal in our lifetimes. The stores don't tag groceries based on the percentage increases in prices however you have to remember from last week and last month yes indeed stores have every reason to disguise this. Manufacturers also which is why packaging these days is holding even less product. This is called "struggling. It is an epidemic right now, today. Manufacturers are struggling to survive, huge increases in their own costs.
The Consumer Price Index came out this second week of November, reveals that consumers prices soared 6.2% in October, the biggest inflation spark in over 30 years and it's probably a lot worse than the official figures are actually showing. Meanwhile, the producer price index reveals that the year-over-year change in the index for construction material is up almost 20%.
Now let us look at gasoline, you experience it each and every day the high prices at the pump. Last year at this time the average price per gallon was $1.81, now it is $3.40, it is also rising as demand intensifies, and supply faces restrictions. Most important here are the monetary effects, as all the money that the feds sloshed up in the last 20 months, reduces its value or what it can actually buy. This inflation will without a doubt hit all products and all sectors evenly, It moves from one sector to sector. These days boys and girls the toxin is moving so very fast and in so many different directions it makes one's head to spin.
Some do say, inflation benefits only the rich, because there assets rise in value and at the same time commodities and staples become more expensive, too food, milk, houses, clothing and of course gasoline, therefore, inflation increases inequality. From that vantage point, it doesn't seem to be a problem for the top 1%. Generally speaking inflation benefits debtors over creditors. Therefore, my dear friends, it punishes savers, and generally speaking inflation tends to benefit assets therefore (listen carefully) it creates more inequality between those who hold assets and those who do not
In the forties and the 70s being inflationary decades, we saw a reduction in wealth concentration at the top. In the forties you had the end of World War II unlike after World War I, there were immense politician pressure in the U.S. to take care of our soldiers. Redistributive policies were incredibly popular, as were wage increases. So we had the G.I. bill and all kinds of programs to help our soldiers. The government funded this by texting the rich at a higher clip and inflating, away bonds, that was also held by the wealthy through money printing. So we had wage growth with a decrease in debt. All of this reduce wealth at the top.
In the 70s, an inflationary time we had strong wage growth, while stocks were performing very poorly. But who we're actually winning? middle-class home-owners with fixed mortgages did extremely well. Wealth concentration at the top went down in the 70s, as well. So inflation can reduce wealth inequality. We have been living through a long period of anti-labor, pro-corporate, pro-asset, low interest rates, and pro-debt.
In the past 10 years we have seen:
Asset price inflation
Suppressed wages
Outsourced labor
Automated labor
This has been extremely good for the C-9 and the M-1, the top 10%. The biggest problem that is barely spoken about is the concentration of power, that's also happened in the past decade. Please consider this for an example, the redistributive policies A.K.A, stimulus checks, of 2020 and 2021. The vast majority of that money went into corporations and asset prices, benefiting mostly the top 10% while the blue collar workers got the crumbs.
So what does this all mean, inflation is good if you want to pay off a bunch of debts, inflation is bad if you only save and don't have any asset. Inflation can reduce income inequality. And let us not forget inflation is a way for the almighty central bankers redistribute money in the economy without permission from anyone. So why am I explaining all this to you? To open your eyes to why this is the best time to invest for your future and the future of your loved ones.
Inflation is solving, our nation is bitterly divided over vaccine mandates and our people are rapidly losing faith in institutions. If you add it all up, the U.S. is a power keg. We must protect ourselves from all the chaos that may come. Digital currencies and the safe haven of precious metals is the way to protect our wealth and our loved ones futures. If you don't have gold and silver you are missing one of the world's best performing assets. In 2020 alone gold rose 24%, in fact goal has returned 2 times the performance of the S&P 500 since the beginning of the century. And as far as digital currencies are concerned, it is the future and the future is now, it is one of the few proven ways that an everyday Joe can acquire wealth.
As I have mentioned, the inflation crisis is only getting worse, in October 2021 Prices rose the fastest that we have seen in 31 years. My God, new cars now average $45,000 an all time high. The average price of a home saw its largest increase since 1973 almost 50 years ago. To make matters worse, every day that passed means your hard-earned money continues to lose value, and it seems that things are on track to only get worse. It's time for all of us to take action, there is no more time to debate if we should invest or not, in order to hold on to our wealth and to increase our wealth, the time is now.
Some of you have been reading my newsletters since 2018, and all of you know that any information that I had given to you has been absolutely correct in every detail. There have been lots of times that I had wrote newsletters throughout the years with no motivation or intentions to make money on anyone, but only to help each and everyone of you to become wealthy. And this is what I'm doing today, below you will find a link to a young lady, whose name is Miss Sherrie Sullivan, that I have known throughout the years, a young lady who is honest and sincere in what she does, I highly recommend her, she helped me big time, she can be your guide to get involved with precious metals, her link is below.
And as far as cryptocurrencies are concern, today I'm going to introduce you to a 100% true game changer. A company by the name of kiwi that has changed everything concerning individuals investing in cryptocurrencies. This is a company that allows you to have 100% control over your Investments at all times. Your money only stays with you in your digital wallet, no one has control of it except you. No company has ever done that before, that's right, you're not going to have to give your money to anyone to do Investments for you and it is a system that is rocking throughout the globe, the information for your convenience is be low.
May prosperity and good health be always with you.
Humbly yours Paul Earl.
www.beautiflworld.com